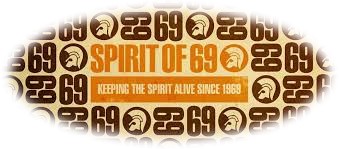 SPIRIT OF '69

Skinheads Through the Ages
Who were the first Skinheads?
1966-1969 England


■
Skinhead Culture Can Be Traced Back To London In The Late 1960'S
■ Working Class Youth Who Were Brought Together Over Common Ground, Including But Not Limited To Class Struggles, and Growing Unemployment As The Boon Times Of The Mid 50'S Started To Slow.
■ A True Love Of Great Music, Dancing And Strong Fashion Sense Defined The Culture Along With Of Course Very SHORT Hair.
■ Many Of The First Skins Grew Out Of The Mod Scene, But Wanted To Be Distinguished From Them Because A Skinhead Is Willing To Act (Resort To Violence) And A Distinguishable And Rich Subculture Was Blossoming.
■The Original Skinheads Were Heavily Influenced By Jamaican Rude Boy, Ska, Reggae And Rocksteady Music.
70's Skins
(not to be confused with Punks)
■ Punk
Music, Oi And Related Genres Started To Gain Commercial Success And With It A Vibrant And Important New Way For Skin's To Express Themselves.
■ Socio-Political Issues Including But Not Limited To Racism As Class Violence Started To Become An Important Part Of The Music And The Culture.
■ Boot Boy And Hooligan Culture Started To Grow In The UK And Elsewhere. That Along With The Racism That Had Been A Sad And Dirty Part Of The Culture, There Was A Splintering And The Bonehead Was Born.
* To Be Clear, Boot Boys And Hooligans Are Not Themselves Racist Nor Fascist. They Remain An Important Part Of The Culture.
■ As Early As The 70'S It Became Clear That Skinheads Needed To Stand For Something, And Fight For Basic Humanity.
The 80'S And 90'S


■ Music Got Much Better, Hard Core Was Born: Capitan Oi
■ A New Generation Of Skinheads Were In Their Teens, And The Shows Provided A Space To Find Each Other And Create A Message Of Intolerance For Fascists And Nazi's Who Were Gaining Significant Ground Around The World Through Financial And Political Backing. Read More Here
■ In The Late 80'S The Media Took Notice Of The Racists And Neo-Nazi's Who Had Co-Opted The Subculture, The Music And The Movement As Far Back As The Early 70'S. Read More Here
■ "Skinhead" As A Term Became Synonymous With "Neo-Nazi".
This Couldn't Be Farther From The Truth.
■ Crews Started To Pop Up Around The Nation, Some In Response To The Call To Action From The UK By Roddy Moreno And Others Who Started The SHARPS, Other Crews Around The Country Formed To Literally And Figuratively Fight The Rise Of Fascism And Racism That Was First Noticed At The Shows.
■ Boot Boys & Girls Were At The Shows And In The Streets – It Was Often Very Violent And Many Were Stabbed, Shot, Beaten And Imprisoned. It Worked For A Time.
SHARP and other Skin Crews
Today and the Future


■
There are several SHARP, RASH, STRAIGHT EDGE, and non-affiliated Skinhead Crews around the world.
■ Social Media has helped revitalize the movement and refocus the fight.
■ Social Media and the current political climate has also emboldened a new breed of bonehead and fascist sympathizer.
■ All Skinheads are anti-racist and anti-fascist.
■ The wide variety of Crews on the international stage allows for other important social issues to be addressed. Some are a-political, others are anarchist, and others have anti-drug, vegan, or other related causes. There are now LBGQT Skins, and Females in leadership/full membership roles.
■ The Skinhead of the Future fights for FULL EQUALITY, they embrace and celebrate the differences and will literally fight to preserve those rights for all.
SKINHEADS CARRYING ON THE LEGACY IN OTHER WAYS

One Peoples Project: Founded in 2000 by Daryl Lamont Jenkins. One People's Project seeks to combat right wing groups and individuals by exposing their threat to the world. We serve as a resource to those on the front lines fighting fascism – especially those who don't play nice!

Visit: One Peoples Project



Negro Terror- Voice of Memphis
AMS Forever Brother: Omar Higgins
THE HISTORY OF SKINHEADS
"The Story Of Skinhead"- Don Letts, BBC 2016
BONEHEADS & White Supremacists are NOT Skinheads
■ They Are NOT Skinheads Despite What Some Who Should Know Better Say: Southern Poverty Law Center

■ As We Have Shown Skinhead Culture Was Born From The Love Of A Diverse, Rich And Inclusive Culture. The Brawlers, Marchers And Musicians Were Deployed To Preserve That. This Alone Is Why A Bonehead Can Never Be A Skinhead.

■ Boneheads Are Well Funded And Dangerous. They Never Left, They May Have Gone Quiet, But The Past 3 Years We Have Seen A Resurgence That Is Growing Daily.

■ White Supremacy, Alt-Right, Proud Boys Are Not Our Grandfathers Nazi's They Are Often That Clean Cut Sympathetic Good Ol' Boy Next Door, Or Your Boss Or Mayor, They Are More Dangerous As They Truly Believe That Their Precious White Male Supremacy Is Ending, They And Their Brothers And Sisters Will Fight Until The End To Maintain Their Illusion Of Power And Hold On American Civic And Social Order.
SKIN-A SHORT (2018): A short film about the Nazi "skin"
© Copyright American SHARP